History & Mission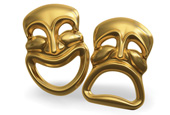 The Littman Theater is owned and operated by the City of North Miami Beach and managed by the Leisure Services Department. A theater was a longstanding dream of our small but vibrant City and thanks to the efforts and vision of City officials, the City was able to secure the funds needed to renovate and transform the basketball gym formerly known as Victory auditorium.
In 1994, the newly renovated space opened with the name of North Miami Beach Cultural Center. As the demand for the use of the space grew, a definite direction towards the performing arts was established, thus prompting a change in the name to North Miami Beach Performing Arts Theater. In 2004, the City of North Miami Beach decided to recognize the labor of the former Councilman Julius Littman as the force behind the Theaterís existence and renamed the theater the Julius Littman Performing Arts Theater.
The more recent addition of a new wing adjacent to the Theater has opened the opportunity to offer needed meeting space that our area demands. Renovation plans in the future will make the Theater and Conference area even more conducive for major events and performances.
The Littman Theater will continue to provide quality cultural events and activities, as it has become the place where our diverse community comes together to share its passion for the Arts!