Catch These Upcoming Performances!
The Julius Littman Theater proudly presents a series of exciting shows for everyone in the family!
Ishay Ribo & Nathan Goshen
April 4, 2019 8:00pm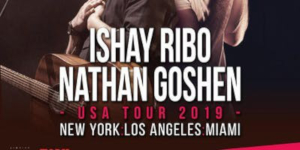 Madys Dance Factory Presents
June 15,2019 3:00pm
Madys Dance Factory Presents...Channel Surfing by Mady's Dance Factory We are so excited to announce our End of the School Year Recital theme, "CHANNEL SURFING" "Channel Surfing" is a themed dance recital that plays off of all the greatest TV shows from the 50's to present day! This is our biggest show of the year and it is open to ALL Dancers!
His Double Life
July 13, 2019 7:00pm
Description HIS DOUBLE LIFE is a play that tells the story of a young man who craves the unconditional love of his father but finds that no matter what he does, he is unable to measure up. But he faces even more serious obstacles that threaten to destroy the relationship with his high school sweetheart and one day wife, tear his family apart and cause an irreconcilable breach between him and his father.
Revva and Galustyan
p>
Wed, April 10, 2019
The stars of humor - Alexander Revva and Mikhail Galustyan created a completely new comedy show "Funny and Even Funnier," which will soon be presented in the Big Tour of the United States and Canada. The duo's corporate humor will not leave anyone indifferent: laughter, joy and a positive mood are guaranteed to all viewers of the new show.