Catch These Upcoming Performances!
The Julius Littman Theater proudly presents a series of exciting shows for everyone in the family!
Grand Klezmer & Cantorial Concert
FEATURING WORLD-RENOWNED CANTOR Benzion Miller & THE New York Klezmer All-Stars
Sunday,February 11, 2017 2pm
SPECIAL OPENING ACT BY THE Jaime Bronsztein Klezmer Band

Benzion Miller is considered one of the foremost cantors internationally. From the Israeli Philharmonic Orchestra, the London Symphony, Barcelona National Symphony Orchestra, Budapest State Opera, and many more, Benzion has taken over the pulpit from the famous Cantor Moshe Koussevitzky!

Tickets are $10-15 for upper section, $15-36 for lower, $50-$100 front row

at the Littman Theater 17011 NE 19th ave North Miami Beach

tickets can be purchased at www.UnitedJewishGenerations.com/Klezmer

For more details please call 305-770-4540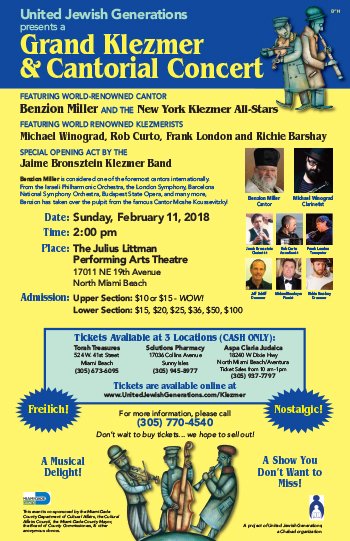 A Musical Journey Through The Decades
Saturday,February 17,2018 7:30pm
Sponsored by the City of North Miami Beach, This years black history event features Mojo Ike and Val Woods many Motown classics by artist such as Stevie Wonder, Marvin Gaye, Etta James, and more. Enjoy our Live music and cash bar
Happening at the Julius Littman Theater
17011 NE 19TH AVENUE North Miami Beach
Event is free, but ticket is required, and can be picked up by the parks and rec office at 17051 NE 19th Ave, North Miami Beach FL 33162
For More Information Contact 305-948-2957
Jazz Appreciation Month with Shareef Clayton
Saturday,April 14th, 2018 at 7PM
Sponsored by the City of North Miami Beach, Shareef Clayton will be giving an electrifying jazz performance at the Littman Theater
This concert is free, but a Ticket is required and can picked up from the parks and recs office at 17051 NE19th Ave, North Miami Beach
Concert will be held at the Julius Littman Theater, 17011 NE 19th Ave,North Miami Beach, FL 33162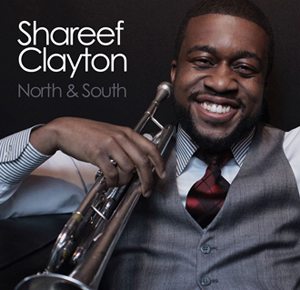 Valeriy Meladze
p>
Wed, May 2, 2018
Each live concert of Valery Meladze is an event, for it is not just a meeting with a romantic, a skeptic, a passionate lover or an ardent lover - this is a meeting with a musician, an Artist with a capital letter, who has been on the stage for many years singing for you. She sings to make your day, your whole life become brighter, kinder, that everything around, let it be for the evening, but it was "desperately beautiful". Each of his concerts is an enchanting festival of music and unforgettable impressions.
Tickets: www.russianhotline.com $50-$150

17011 NE 19th Ave, North Miami Beach, 33162.